| | |
| --- | --- |
| lasapin ang tagumpay | Monday, October 02, 2006|07:28 pm |
hindi ako taga-USTe (although minsan ko nang tinangkang kumuha ng Music degree sa nasabing unibersidad -- haloy himatayin lang ako nung malaman ko kung magkano ang tuition fee!) pero halos sumabog ang dibdib ko kanina sa kahi-hintay ng resulta ng UAAP.
PANALO!
congrats USTe! good game, Ateneo
| | |
| --- | --- |
| ang buhay sa ilalim ng dilim | Monday, October 02, 2006|07:24 pm |
i used to celebrate when PAGASA announces a typhoon is about to hit us. no classes. no teachers/professors. music to my ears. and so when my boss asked us not to go to work last Thursday, i rejoiced. much to my surprise the forecast is accurate, and believe me it doesn't happen often on this side of the planet.

i woke up very early, waking up my officemates asking them if they're going to work. we all decided not to because according to the news the typhoon that will hit us is strong. i waited by the door and nothing happened. signal #3 (i later on learned it was actually 4) but no heavy rains, no strong winds, no nothing. and then it came. and when it came i wished it didn't. i watched by the door looking at the trees as they swayed dancing to the sound of the wind. the dogs were happy, they even played under the rain. then i heard a loud sound, so loud i too screamed. it was our neighbor's roof flying around as if aiming at something or somewhere... or at me. so we let the dogs go inside the house. it did stop for 20 minutes but when it returned it was a heavier, stronger wind with a louder sound. i couldn't stay in my room with 2 huge windows because i thought any moment the jalousy will break into pieces and glasses will be buried on my face.

and then the unthinkable happened. no electricity. no electricity means no water. no water means no baths and showers. no drinking water. no decent food to eat. no everything. plus phone lines are broken too and my cellphone died on me that afternoon. disaster. DISASTER. i spent friday reading "White Oleander" (which i finished in a day and a half); i used the natural light of the day for reading and play the guitar during the night. the rest of the night is spent staring at the candle, waiting for it to burn and let the burned wax flow on a container. you may find it boring, but when nothing is left for you to do and you're stuck with a lit candle you'll do the same. i had no choice.

i finally got the chance to smell and taste fresh water again, this morning -- 2am. i gathered all containers that can serve as a bucket and filled them with water. bottles, mineral water containers -- all things deep, my neighbor even used a plastic bag just to get enough water supplies. fire trucks and firemen became an instant celebrity in our place too. they are the heroes of the moment. the dogs were happy to see running water from the faucet too, one of them even went to the faucet put her head under it and let it flow over her head. poor dog. i was done by 4am and i tried to get some sleep. i couldn't so i started to get ready by 5:30am. they cut the water supply at 7am i heard.

and when i got out of the house, the horror of all things horror. uprooted trees, houses without roofs, establishments destroyed, businesses not operating because there's no power supply. people running around looking for places to get water. it was a mess. in times like these i appreaciate the sunny days, the loud sound of the jologs radio stations playing with "orcs" singing along a Cueshe song, and yes even Cueshe. i wanted to hear something, anything but shouting and fighting.

tonight i hope i'll see a lighted street when i get home. or water, just water. i can live without electricity but not withoug water. if i'm be lucky enough, ill spend the night staring at a candle again until i get sleepy.
| | |
| --- | --- |
| nice. very nice. | Friday, May 05, 2006|07:09 pm |
baboyita: hello HR?
HR representative: yes, this is the HR dept.
baboyita: hi, tanong ko lang yung tungkol sa dependent sa health card natin.
HR rep: opo? ano po yon?
baboyita: pwede bang hindi parent? let's say, guardian?
HR rep: ay hindi po. kasi... *blah blah blah*
baboyita: e pano kung wala ka nang parents and wala ka namang anak? tapos single ka pa?
HR rep: um, eh di.... wala ka pong dependent.
WHAT????!!!!
| | |
| --- | --- |
| major events in January | Thursday, February 02, 2006|04:39 pm |
2006 kicked off on a good start... here are 3 of the my most memorable events this month. and it only happen in just one weekend.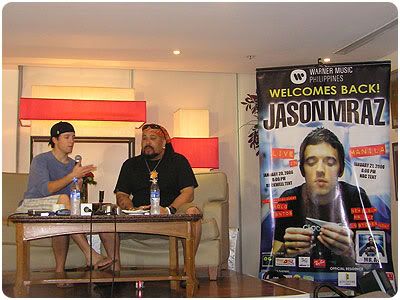 Jason Mraz Press Conference (20 Jan 2006)
(many thanks to Pia)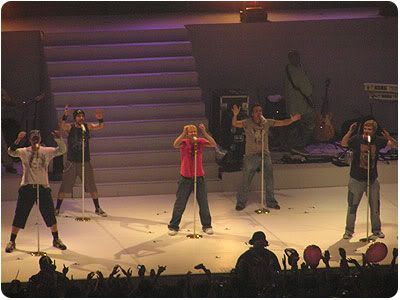 Backstreet Boys Live in Manila (20 Jan 2006)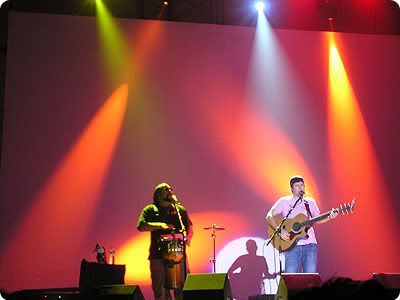 Jason Mraz @ The NBC Tent (21 Jan 2006)
January is my best month so far


tapos bukas naman MYMP @ The Araneta. yipiiii!
haaaay, sana laging ganito
| | |
| --- | --- |
| sponsors anyone? | Monday, January 16, 2006|07:15 pm |
Jason Mraz's concert in a few days and until now I still dont have a clue as to who are the sponsors. Jam 88.3 is one pero sino pa? I really want to see him on TV, ewan ko kung bakit para akong baliw pero gusto ko talaga. I haven't seen a single article about him (online and on paper), pati sa TV wala
Lalo tuloy akong napa-praning sa excitement.
| | |
| --- | --- |
| New Year | Friday, January 06, 2006|03:49 pm |
first of all, Happy New Year!
2005 had been a good one for me, sana mas maganda this year hehe. Medyo matagal din akong di nagparamdam, and I noticed a few new features here in Blogdrive. I was thinking of leaving Blogdrive pa man din, siguro I should consider staying since may mga new features sila.
I can now have these -->
medyo matagal ko ring inantay to.
The Mraz gig is in 2 weeks, excited na ko!
| | |
| --- | --- |
| anybody there? | Thursday, October 06, 2005|09:16 pm |
where the hell is the owner of this blog?!

andito po.

i've been very lazy lately. i used to update like every other day and everytime na may nangyayari or may ginagawa ako naiisip ko: "ay, iba-blog ko to". not anymore. probably because of the workload i have for a couple of weeks now. i am physically ok but im mentally drained. natutuyo utak ko sa ginagawa ko, pero nag-e-enjoy naman ako.

the effect of having a heavy (heavier than usual) workload finally sinks in to me. 11pm pa lang antok na ko (my usual bed time is 12am) and madalas na kong magising ng late kaya late din sa work. but i make it a point na may natatapos akong task sa isang araw, wala akong sinasayang na oras. hindi na nga ako nakakapagbasa ng ibang blogs eh.

i am not the most confident person in the world. i am proud of what ive become but i dont think im that good. kaya nga when my boss added the "must-pass-atleast-one-certification-exam-this-year-objective" for me, takot ako. matagal ko nang iniwan at kinalimutan ang pag-aaral at ayoko na sanang balikan. pero andito na to, hinihingi na ng pagkakataon. ok lang daw bumagsak libre naman daw ang exam sa mga employees, pero pag bumagsak naman ako ang laking kahihiyan non! kaya nung finally nakapasa na ko sarap ng feeling, parang biglang bumuti kalagayan ko. para akong may sakit na biglang gumaling. salamat po Lord! :)

siguro naman wala nang mag-iisip kung "nasaan yung may-ari ng blog na to?" no. i have 2 valid reasons: 1.)work and 2.) work.
| | |
| --- | --- |
| makibaka? | Wednesday, July 13, 2005|10:05 pm |

rally sa Ayala Ave. 4pm today
SIGAW NG SAMBAYANAN:
IBALIK! IBALIK!
ANG TAMBALANG GUY AND PIP!
| | |
| --- | --- |
| Switchfoot in Manila | Tuesday, July 12, 2005|05:39 pm |